Solar panels switched off by energy authorities to stabilise South Australian electricity grid
The energy authorities in South Australia used their new energy to turn off thousands of solar panels from the household for the first time. This was the intervention when the demand for electricity dropped over the weekend.
Important points:
SA's spot demand for electricity recently fell to "a near record-breaking minimum level".
AEMO had to intervene and instruct ElectraNet to stabilize the network
This led to around 12,000 solar systems being switched off remotely
Last year, transmission authorities were given permission to deliberately "trip" existing rooftop solar panels on rare occasions to avoid sudden drops in demand that lead to widespread power outages.
The Australian Energy Market Operator (AEMO) recommended the measure to reduce the threat to grid security from the rapid growth of solar roofs, which has resulted in days of very low demand.
The low demand poses a major problem for the safe operation of the network, especially if the ability of South Australia to export electricity to the eastern states is impaired.
Renewable energy rush
Despite, or perhaps because of, government inaction, consumers and businesses have switched to renewable energy, writes Ian Verrender.
Continue reading
AEMO said such a decline occurred on Sunday when South Australia saw "near record breaking minimum electricity demands" during a planned blackout on the circuits supplying the Heywood interconnector that connects the state grid to Victoria.
This planned outage meant that the amount of excess electricity South Australia could export was limited more strictly than usual.
At one point, more than 70 percent of the state's electricity consumption was coming from solar panels on the roof alone.
In response, AEMO instructed transmission company ElectraNet to "keep grid requirements above 400 megawatts" for an hour in the afternoon.
"To ensure system security in South Australia, AEMO has maintained the minimum level of synchronous generation to ensure system security," said an AEMO spokesman.
"This resulted in ElectraNet restricting a number of large and residential solar customers, including those through the South Australian government's 'Smarter Homes' initiatives."
A graph showing the collapse in electricity demand in SA on Sunday. (
AEMO
)
Power grid kept stable
SA Power Networks – which maintains the state's energy infrastructure including substations, masts and wires – said SA had "lower demand on Sunday than it was on Christmas Day."
"We acted on instructions from AEMO to help them stabilize the state power grid," said spokesman Paul Roberts.
"We have reduced solar power generation from larger solar systems that are directly connected to our network and about 12,000 solar customers to achieve a 60 MW increase in demand."
"The power supply was maintained for all customers, and the state power grid could be maintained stably."
Opposition energy spokesman Tom Koutsantonis said people who had spent thousands of dollars on solar panels would get "nothing" to recoup their investment.
Energy Minister Dan Van Holst Pellekaan said "it could be a dollar an hour" lost.
"This is far better than a blackout for this household," he said.
"The reality is, if we hadn't put these rules in place last September, we would have had a nationwide blackout."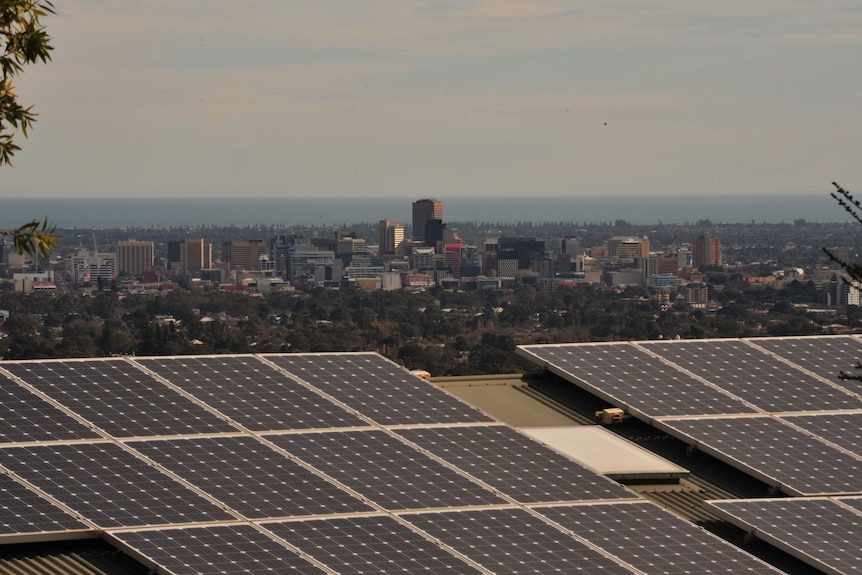 Solar panel owners have missed savings due to the move. (
ABC News: Dean Faulkner
)
SA dependent on renewable energy
South Australia has become heavily dependent on renewable energies in recent years to meet its energy needs.
More than four years after the infamous power outage across the state in 2016, the solar and wind farm boom on the roof of SA has resulted in enormous generation from renewable sources.
Around 280,000 households in South Australia – 35 percent – have installed solar systems.
In June, the SA government warned of the "risk of another nationwide blackout" due to system congestion if supply ever exceeded demand.
For just over an hour on October 11th, 100 percent of the energy demand was covered by solar panels alone. This made the state the first major jurisdiction in the world to run entirely on solar energy.
"Minimal demand events will become more common across Australia as we continue to incorporate rooftop PV," said AEMO.