Forced Uighur labour behind world's solar panels, investigation finds
British researchers say global solar panel production is powered by forced labor by Uighur Muslims in China's Xinjiang province.
A study by Sheffield Hallam University found that around 45% of the world's supply of a key component in panels – polysilicon – comes from Xinjiang and is sourced through an extensive coercive system involving the Uyghur ethnic minority.
In Broad Daylight, the university's Helena Kennedy Center for International Justice report states that the world's four largest plate manufacturers are using polysilicon contaminated by forced labor, and urges manufacturers to source the substance elsewhere.
She cited an official report released in November by the Chinese government that "placed" 2.6 million "minorized" citizens in jobs in farms and factories in Xinjiang and elsewhere in the country through government-sponsored "surplus labor" – and "labor transfer" – Documented initiatives.
"However, significant evidence – largely from government and corporate sources – shows that labor transfers in the Uyghur region are carried out in an environment of unprecedented coercion, underpinned by the constant threat of re-education and internment.
"Many indigenous workers are unable to refuse or quit these jobs, and so the programs are synonymous with forcible relocation and enslavement."
The report said the problem was compounded by the fact that 95% of all solar panels relied on solar polysilicon, which is made from mined quartz.
All polysilicon manufacturers in the Uyghur region have "reported their participation in work transfer programs and / or are supplied by raw material companies who have done so".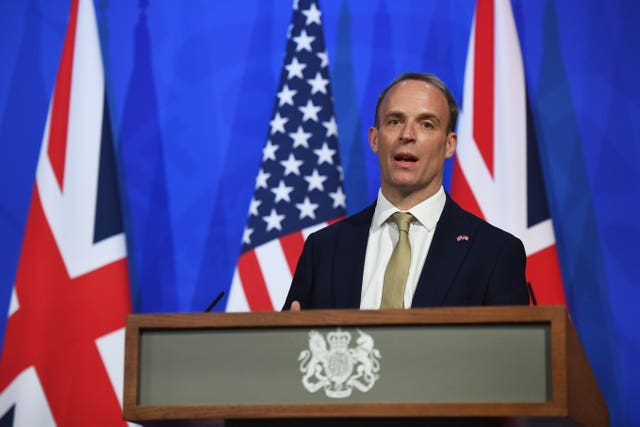 Foreign Minister Dominic Raab recently increased pressure on China over Xinjiang (Chris J. Ratcliffe / PA)
China has received increasing international condemnation for its treatment of Uighur Muslims, including allegations of mass arrests and human rights abuses, including forced labor and the forced sterilization of women.
In March, the UK, US, Canada and the European Union imposed sanctions on Chinese officials found responsible for human rights abuses in Xinjiang.
Foreign Minister Dominic Raab said the abuse of Uighur Muslims in Xinjiang was "one of the worst human rights crises of our time" and that the international community could "not just look the other way."