Ceiling Fans Why They Are Effective
Ceiling fans are a quick and cost effective way to offer a cooling solution without the expense of installing or running an air conditioner.
Ceiling fans by law must be installed by a qualified electrician
The Brissy Electrician team is well versed with ceiling fans and we install them in all sorts of buildings so we hope this article might help when you are wanting a new fan installed and what kind of questions your local electrician should ask you.
While a fan does not lower the actual temperature, it cools you down by creating an airflow over your skin that allows evaporation to happen which cools the skin
In tropical or humid weather ceiling fans are even more effective as humidity makes it more difficult for any sweat on your skin to evaporate and a fan allows this process to work very effectively.
In dryer heat fans are not as cooling effective as they are in humid heat.
In cooler weather ceiling fans can be used to help disperse warm air if it has a reverse function that creates an updraft. Hot air from your heating rises and a ceiling fan reversed will push that warm air down and help with your energy bills and of course we can show you how easy it is to do this when we install a new fan.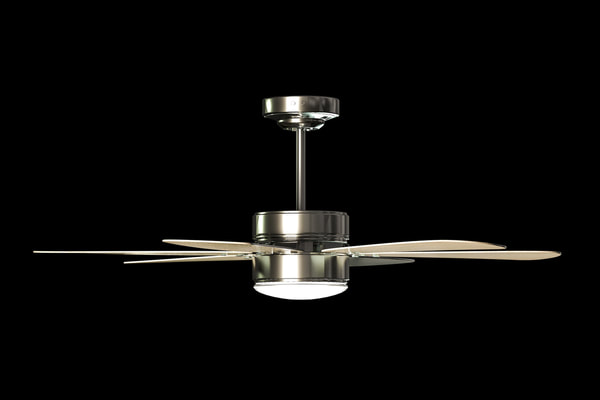 Ceiling Fans With Lights Or For Outdoors – What Sort Do You Need?
Selecting the right fan for your situation does require some forethought and the questions we will ask are:
What sort of ceiling is the fan going to be on?
For example is it a concrete ceiling or are you in a flat or apartment with limited access into the roof space? Or is the ceiling strong enough to support a fan and will it need extra bracing
Are you Supplying The fans?
At Brissy Electricians we typically will install standard AC ceiling fans with a wall switch. A good electrician will suggest a separate switch for the fan.which can help to prevent damage from surges.
If you are wanting a particular style of fan then it is important that you go shopping for the fans that you want and have them at your home before we arrive on site.
There are so many style options for all sorts of decorating styles and fans can also incorporate lighting options that we also touch on further down.
We are always here to offer advice with potential fan selections for your living areas.
How high is the ceiling?
Higher ceilings will require an extension rod so that the fan is at the right height to create the airflow you need. If you are buying the fans yourself you will need to make sure that the extension rod is part of your fans purchase.
Do you live in an older style home?
If you do, then you may also need a fuse box upgrade and plus any extra isolation switches.
How many fans do you need?
It is always more cost effective to get all your electrical work done in one visit so ensure that all the rooms that need a fan are mentioned. And a great idea is to have any extra electrical work needed done at the same time. It is really easy for us to put in an extra power point or upgrade a light fitting while we are there.
Are you wanting the fan to incorporate a light and is there already a light fitting in the ceiling?Fans have now got some excellent lighting options ranging from chandeliers to modern sleek LED's. Always check to see how to remove the light cover for when you have to replace a globe. Some light covers are difficult to open and close. Plastic light covers are now more modern and attractive looking and can be a safer option for a ceiling fan with a light fitting.
How did you want to control the fan?
On the wall controls or did you want a remote control – or there are still fan options with a pull cord.
Have you go enough fans in the space you want to cool?
Often in a larger area you will need 2 or more fans to effectively cool an area – especially if it is an outdoor area.
Where will the fan be?
Outdoor fans will require different fan selection and if you are close to the coast you must ensure that you buy a fan that is rust resistant and the options for a non metal fan have increased.
Please contact the team at Brissy Electricians is you are needing advice on what sort of ceiling fan will suit your home in Brisbane. You can call us on (07) 3064 0615
Brissy Electricians
19 Pleasant crt Cleveland 4163
07 3064 0615